Triangles are one of the price action concepts of the chart. Triangles can reveal us many things about the market scenario, momentum shifts and the balance between bulls and bears. Triangles are made by uniting two trend lines where one is resistance and another is a bullish or bearish line. Every trend line comprises two or more than two prices thus, upper and lower trend lines necessitate at least two or more points in price.
There are three diverse types of triangles and which are explained below
Symmetrical Triangle
Ascending Triangle
Descending Triangle
Symmetrical Triangle
In this triangle, the upper trend line is leaning downward, and the lower trend line is inclined upward at the same angle. The connection between these two trend lines is called "Apex" whereas the base is away from the first high point and first low point.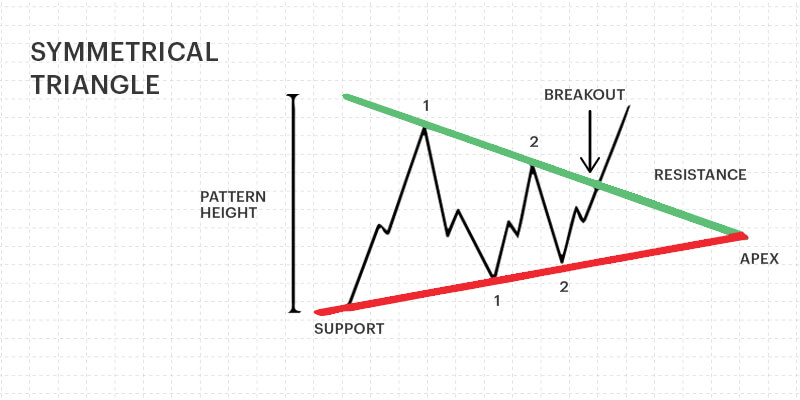 This pattern is bullish in an uptrend as it shows the high possibility of the continuation of the current uptrend. In reverse, this pattern indicates a high possibility of continuation of the downtrend too. The potential price fluctuation can be calculated by the tallness of the base. This is assumed that the breakout of symmetrical triangles usually happens in the direction of the trend. The probability of success is, therefore, greater when we think of symmetrical triangles as being a continuation pattern of forex prices or derivatives prices.
Ascending Triangle
In this triangle, the upper trend line must be horizontal, and the lower trend line should be upward inclined. The horizontal upper trend line of such pattern specifies the resistance which is stopping the price from going further up but the upward slanting lower trend line voices us about the occurrence of an uptrend.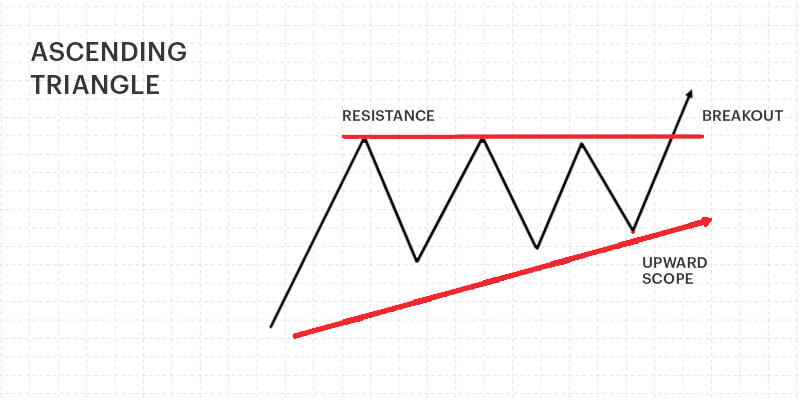 These kind of patterns are bullish and normally found in an up-trending market. It has an apex point and a base. The minimum price movement is equal to the height of the base from the breakout point same as similar triangle patterns.
Descending Triangle
In this triangle, the upper trend line should be downward tending and lower trend line must be horizontal. The horizontal lower trend line of such pattern stipulates a support line and this support line is preventing the price from going more down. However, the upward inclined lower trend line displays the manifestation of a downtrend.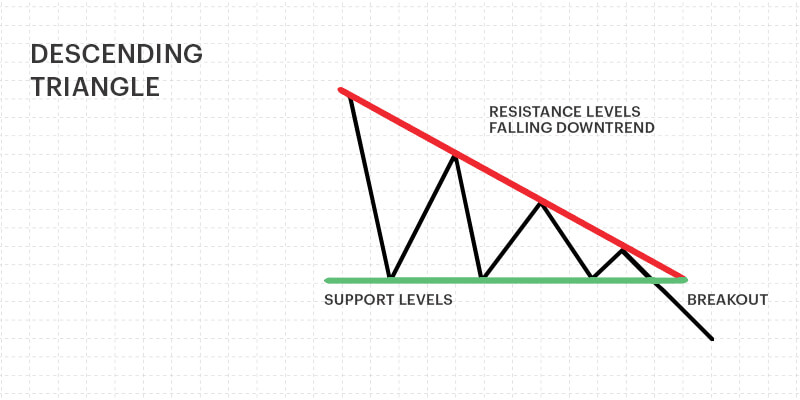 These triangle patterns are bearish in nature and typically originate in a downward market. It also has an apex and a base point. The smallest price fluctuation is equal to the height of the base from the breakout point.
Triangle breaks out patterns are very popular among most of the trader regardless of the forex, commodity or stock markets. Their best use may lead for winning the trade however their confirmation is required before placing the orders.